Breaking news update: 01/23/2012 Vimanas Flying in Space...THEY LIVE!!!
Here is another one...I will be putting in the new video how I found this!! IT IS INCREDIBLE!! No space Invader photoshop here...If you seek you shall find and I FOUND???
I have found TWO Shakuna Vimanas...This next video is going to be INCREDIBLE! Here is a screenshot EXCLUSIVE FOR Face book!! This is what I found at 23 25 42 47 23 40. where HP 115652 is located..this is where Ian Musgrave said I photshopped the picture!! .I inverted the photo and added some HISTRO Contrast well lookey what I
Great Link about Vimanas
http://indiansrgr8.blogspot.com/2011/11/v-i-m-n-s-references-from-ancient.html
Juicy title no? Look. I'm just pulling this down from the etheric realms.....And you know how some of those bastards on the astral plane lie.....yeah, just like here....anyway check this feed.....
We start in WWII ...yes many who are alive now were alive then and experienced WWII on one side or the other... and the Third Reich was billed to be a 1000 year Reich ......and it still is ....
WTF you say?
The Nazi's due to their vast research into the Occult and past history of this earth, knew that another devastating worldwide event was coming around 2011-2015 and never intended to have their Reich on the surface,,,,
They plundered vast riches in the early years of the war and had many secret underground factories...and perhaps a different "PROVIDENCE' helping them than the "PROVIDENCE' that helped Washington at valley forge...
and they used that wealth to build their Antarctic Kingdom....They have become very advanced in many ways...and are keeping an eye on current events...
They don't need to attack because after the cataclysm they will just come and take over the earth without resistance....
Perhaps they have bases at/under both poles... and why are the areas directly over the Poles or are they holes? so hard to see on Google earth?
Here's a movie that has some very compelling and even other worldly info....
Don Adams has a video from Nuemeyer Station in Antartica....there are three chaps outside the station in these full body suits pointing up to the sky....and then there is this guy who's just "there" in interesting street attire...like he just stepped out of ? hmmmm. interesting...
The Movie:
http://thetruthbehindthescenes.wordpress.com/2011/12/16/the-aldebaran-mystery-nazi-ufo-secrets/
Want to go deeper down the Rabbit hole (they have great Tea there)
http://www.youtube.com/watch?v=LRsqBlYN8Ec&feature=player_embedded
(starts at 3:50 into vid)
Byrd, a living legend throughout the world for being the first man to fly over both the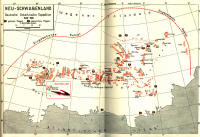 north and south poles, was possibly the most well-informed polar explorer ever, and he divulged his vast knowledge and details of his exploits to the Nazis.

Byrd's advice in his lecture and ultimately the Nazis' successful expedition to claim Neuschwabenland

(click image left)

may have given the Nazis conviction enough to establish a viable Antarctic base. Hess's flight and eventual capture a few years after the Deutsche Antarktische Expedition meant that plans would have been underway.
Did the same Elite backers including (BIG OIL) that financed Hitler turn against him when they found out he was developing VRIL energy and would become totally independent of them?
And these u-boats full of Mercury...The substance used for the propulsion drive systems of the German Vimanas!
Appendix II Sunken U-Boat Laden with Mercury. MORE THAN 60-YEARS LATER SUNKEN U-BOAT IS STILL A NEMESIS TO NORWAY. Williams, Judie ...
DEEPER>>>DIVE>>>DIVE>>>
http://salyers.wordpress.com/2011/01/31/a-final-word-on-the-wunderwaffe/
You still here? Let's Go ~!~
http://www.youtube.com/watch?v=lxD4Ikib140&feature=player_embedded#!
Alien from Andromeda gives an answer to The NAZI-ALDEBERAN connection
From 8 mins into the vid till the 9:30 mark.
http://www.youtube.com/user/atlanticobr?feature=chclk#p/u/0/rcPgy61JEhA
IF YOUR NOT TOTALLY SOAKED IN THIS CONSPIRACY BY NOW ...TAKE A HIT OFF THIS LINK :
http://greyfalcon.us/restored/Vostok.htm
And this.....
http://www.youtube.com/watch?v=sd2lQ4bCPRE
IS THIS THE LATEST ATTEMPT TO THROW US OFF THEIR TRUE LOCATION???
http://www.ironsky.net/site/
SHAWN O'NEAL © COPYRIGHT 2010-2011 REPUBLISH WITH ORIGINAL AUTHOR CREDIT .©UPSIDE DOWN WORLD REPORTS 2011
WWW.ROADSIDEMYSTIC.COM
FAIR USE NOTICE: In accordance with Title 17 U.S.C. Section 107, this material is distributed without profit to those who have expressed a prior interest in receiving the included information for research and educational purposes.